It rained all day today but that did not stop Kent and I from getting some winter yard chores done today. I always think of my Grandpa when I'm out working in the rain. He taught me long ago not to let the weather stop me from doing anything. I'd say "But it's raining outside we can't....." and he would say "If you live in WA and let the rain stop you from doing anything you will never get anything done!".
Among other things today we pruned the apple tree but mostly the day was about transplanting things that had gotten to big for their spot or we wanted to move for various other reasons. It started with moving a Holly tree. I bought it several years ago when it was small with he intention of using cuttings from it at the holidays. It's gotten quit big and blocked the side view of our house. Since our house was burglarized last year we have been looking for was to make it more visible from the street. So we moved the holly tree from here....
to here in the back yard.
Much better. Now is the time to move certain plants in the winter while the ground is wet and many plants are dormant.
We also transplanted an oak tree that had been in a container on the back porch for several years and simply had gotten too big for the container. So now it too has a nice new spot in the back yard.
I did not get any pictures but we also moved a huge clump of black bamboo that had gotten way too big for it's spot and too close to the house. It was a big job but Kent kept threatening to go out and chop it down if we did not move it!
Felt good to get some winter chores done.
Tonight we went to a Seattle Thunderbird hockey game.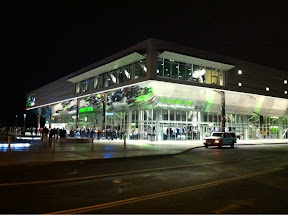 They built a new arena several years ago and we have been meaning to check it out.
Go Thunderbirds!
Later -
Jim
- Posted using BlogPress from my iPhone