2878.5 miles from home and I'll be sleeping in my own bed tonight! Our weekend trips over the last three weeks comes to an end now that the Huskies are out of the
NCAA Basketball Tournament
. Had they moved on to the final four we would be planning our next weekend to Indianapolis next weekend. Truth be told although sorry the Huskies lost but glad we don't have to be out of town for a fourth weekend in a row. Toby will be a happy boy!
We flew out on Wednesday afternoon into Newark. We decided to fly into
Newark
because we used frequent flyer miles for the ticket and there was a nonstop flight from Seattle. We spent the first night in Newark and headed out in our rental car the next morning for
Syracuse
.
It's about a four and a half hour drive from Newark up to Syracuse. The game was at 7:30 that evening so we had plenty of time to make our way there. Upon arrival it was quickly apparent that the Syracuse area has not quite done with winter. There were still a few piles of snow yet to melt and unlike home the spring bulbs and trees had yet to bud. We drove directly to our hotel upon arrival, checked in and headed out to explore!
We found the Husky headquarters at the local Double Tree Hotel and picked up our tickets. It's fun when you are 2800+ miles from home to suddenly find yourself surrounded by Husky fans who like yourself have disrupted their routine to support the team. After picking up our tickets we headed over to the campus of
Syracuse University
to check out the
Carrier Dome
where the Huskies would play. Just an opinion - but dome stadiums are dumps! There is a reason we blew up the Kingdome 10 years ago! Although it worked out fine, it's always a little weird when basketball is played in an arena intended for football. Basically they reconfigure the field to accommodate the basketball court on one end.
The game was great for the first half and it looked like it was going to be a tight game with UW ahead going into the half by 2 points. It did not take long for Kentucky to pull ahead and the Dawgs were never able to recover. We meet some great people along the way!
Larry and his wife/girlfriend? We just call her Mrs. Larry. We first ran into them at the Pac-10 tournament last year. Big Dawgs fans! Larry wears a vintage Husky jacket that at least once per game gets him on TV. If one can be famous among Husky fans - Larry would be it. He's the best cheerleader in any section!
By happenstance we flew out to Syracuse on the same plane as a group of other guys we first meet last year at the Pac-10 tournament last year. Simply known to us as "Seth and his friends". Seth as it turned out owns a pub in downtown Seattle called
Collins Pub
. It's very popular among us County folks because of its close proximity to the King County Courthouse. Great selection of beer and great food! Check out Collins Pub next time you are in town.
The rest of the people met are nameless because I've forgotten their names - but memorable nonetheless. We meet one of the guys who works for the athletic department for the
University of Washington
. He and his wife sat in front of us. We've seen him before so it was nice to finally talk with him. It was interesting to question him about the whole tyee thing at the UW - how it all works, seating priority/selection and fundraising for the University and the team.
The couple sitting to our right had traveled from Seattle as well - young guy and his wife - expecting their first kid. Real nice people, just the kind you want to sit next to at a game. They were also very funny - making just the right comments about notable fans around us!
Lastly right in front of us was a group of young guys who all went to High School together in Seattle and all went to different east coast colleges. They organized a trip to Syracuse to support the Dawgs! They were really into the game - and equally distraught when it was clear that we were not going to pull off a win.
Several NBA players with Washington connections were sitting in our section including former Huskies Jon Brockman, Spencer Hawes (both Sacramento Kings) and Robinson (Celtics), Jrue Holiday(Nets) and Brook Lopez who played for Stanford and now is with the Nets.
So what does one do after your team gets knocked off in game one of the series? That's the million $ question! We could have stayed in Syracuse where the temperatures had dropped into the teens and watched the game on Saturday night that should have included the Huskies or we could change plans - we chose the latter. Had we stayed we would have been at the game late into the evening and had to drive to Newark immediately following the game and arrived sometime around 2 a.m. and then gotten up the next day for a 6 a.m. flight home. Now we would have gladly done that for the Huskies buy not so much for a couple non
Pac - 10 teams
. Especially since one of the teams was one of the team that knocked us out of the tournament!
After researching our options we decided to change our flight and return to Seattle a day early. In doing so we decided since we had the extra time we would shake things up a bit. Talk about being spontaneous! We were originally supposed to fly home Sunday morning out of Newark. When we first checked on options there were plenty of seats open to fly home from Newark so we went to bed thinking we could make up our minds in the morning. Well come morning all the seats out of Newark were full. My guess -full of Husky fans all headed home early.
Kent is so good at researching options quickly! We looked at flying home out of Boston, New York, Baltimore, Philadelphia and DC. We settled on catching a 5 pm flight out of DC on Saturday that would get us home around 8:30 p.m. Saturday. We arranged for our friend Bill to go pick up Toby from the kennel so he too could get home a day earlier than planned and be at the house when we arrived!
So from this point forward everything else we did was a complete departure from our original plans. We figured we had all day Friday and most of Saturday to fill so we went right to work.
Loving New York City, it was a pretty easy decision where to have dinner on Friday night. When we were there last November for the marathon we found a wonderful Mexican/Latin restaurant called
Toloache
on 50th near Times Square. We liked it so much we dined there twice last time we were in town. So it was an easy choice to head back!
I have a twin brother that lives in Williamsport PA who we tried to connect with but it unfortunately did not work out. We took our time driving back stopping at the Erie Canal Museum in Syracuse before leaving town.
We also stopped off at the Delaware Water Gap at the point where the Appalachian Trail crosses and took a short hike. Ever since reading the book -
A Walk in the Woods
by
Bill Bryson
we have toyed with the idea of hiking the Appalachian Trail. I'd love to do a thorough hike but doing it in sections over a number of years is probably more realistic. If you have never read the book I recommend it - it's educational, interesting and hilarious!
Following dinner we walked around Times Square a bit and then up to Penn Station to do a bit of scouting for the next day.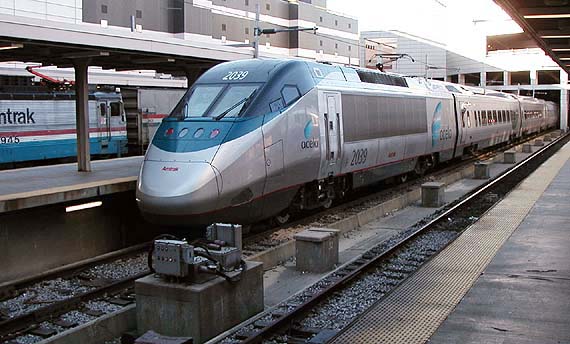 We had two options for getting to DC the following day - drive or take the train. Kent and I have talked for years about taking the high speed
Acela
train on the east coast - what better time? We ditched the rental car and bought a couple of train tickets for DC the next morning. It's 228 miles between New York and DC so we picked an early train and headed to DC the next morning. The train was pretty cool! Travels at speeds of up to 150 miles per hour. The route takes you through Philadelphia and Baltimore in route to DC. For the most part it's a pretty route except when traveling through the cities themselves - you see some pretty poverty stricken neighborhoods. I'd definitely recommend the ride however and look forward to coming back and riding the section between Portland, Maine to New York City.
We arrived in DC around noon and had about three hours to kill before catching our flight home. I've come to really love DC. Because of work I get back there 2-3 times a year and I never grow tired of going. So much to do and see! We hit it just right this time as the 98th annual
Cheery Blossom Festival
had just begun. I've always wanted to see the trees in bloom so this was my lucky day! We walked down to the Tidal Basin and took in the trees which were quite beautiful. Unbelievable crowd of people - it was a beautiful day people out and about, kites flying - spring had definitely hit DC. There's still time to see the trees at their peak. While they were quite beautiful, as a
Master Gardener
I'd say they are (depending on weather) 4-7 days from peak.
As much fun as it's been I'm glad we are headed home. Already looking forward to our next adventure!
Oh - by the way, we filled out our
2010 Census
Form on the plane headed home - don't forget yours!
Later -
Jim